Images of Kate, Princess of Wales beside Meghan, Duchess of Sussex, at the funeral for the Queen are now firmly lodged in history along with the 1952 photographs of the heavily veiled former monarch, the Queen Mother and Queen Mary mourning King George VI.
Both solemn photographs show the elegance of expressing respect through restraint and by embracing tradition.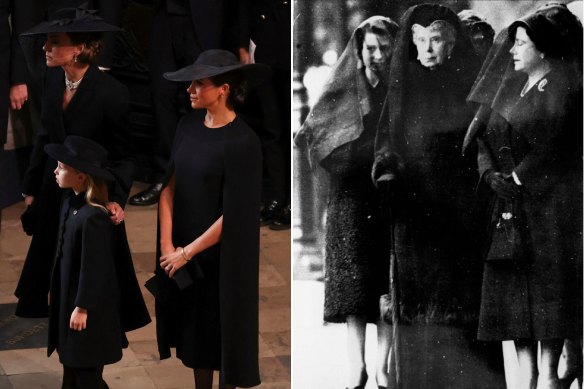 With Kate wearing a coat from Alexander McQueen, the label responsible for her wedding dress, and Meghan in a cape dress from Stella McCartney, who designed the dress for her wedding reception, the women elegantly acknowledged their path into the pages of history.
Kate's delicately veiled hat by Irish milliner Philip Treacy and Meghan's tilted Stephen Jones' creation were contemporary adaptations of the expressions of mourning by their formidable forebears in 1952.
The simple silhouettes of Kate and Meghan's outfits provided backdrops for the jewellery, which spoke of personal connections to the Queen. Meghan's diamond and pearl earrings, a gift from the Queen worn on their only official engagement together in 2018, were a gentle whisper compared to the loud four-strand pearl and diamond choker worn by Kate.
Commissioned from the jewellers Garrard by the Queen in the 1970s using pearls gifted by the Japanese government, the choker was worn by Kate to the Queen and Prince Philip's diamond wedding anniversary as well as the Duke of Edinburgh's funeral. Another layer of symbolism was added by their presence on the neck of her predecessor as Princess of Wales, Diana, at a 1982 banquet for Queen Beatrix of the Netherlands.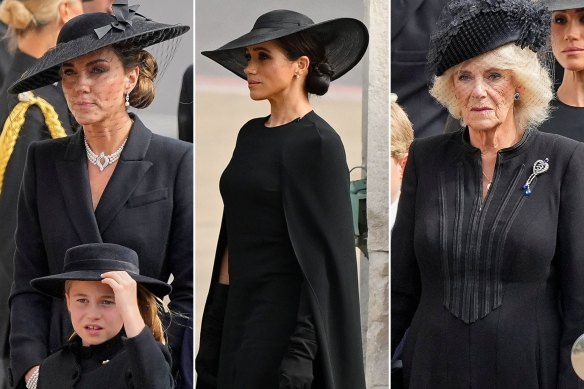 Pearls, part of the late Queen's uniform, have been traditional mourning accessories since Queen Victoria's husband Prince Albert died when she was 42 in 1861. Victoria wore mourning attire for the rest of her life, preferring pearls for their purity and lack of showiness compared to other gemstones.
Camilla, the Queen Consort, not usually a style setter, broke with tradition by wearing a diamond and sapphire brooch. Rather than an act of bejewelled rebellion, the heart-shaped Hesse Diamond Jubilee Brooch was worn by Camilla during the Queen's Diamond Jubilee celebrations.