"In the current situation, against a backdrop of soaring risks and threats, Russia's decision to conduct a special military operation was a forced one," the Russian leader said.
"It was very hard to make it, but it was forced and necessary. It was a decision by a sovereign country that has an unconditional right, based on the UN Charter, to defend its security."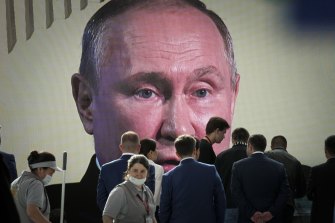 Putin predicted Russia's success in Ukraine after more than 16 weeks of fighting.
"All of the special military operation's objectives will definitely be attained," he said. "This is predetermined by the courage and heroism of our warriors, the consolidation of Russian society, whose support gives strength and confidence to Russia's army and navy, the profound understanding of the rightness and historic justice of our cause."
Russia also "will accept any of the choices" the Donetsk and Luhansk People's Republics in the Donbas region of eastern Ukraine make about their futures, Putin said.
Loading
There's been consistent speculation that the separatist territories will hold votes on joining Russia, similar to when Russia annexed Crimea in 2014. Separatist leaders of the two areas have expressed the desire for such a referendum.
Russia recognised the two areas as independent states days before sending troops to Ukraine, a move none of its allies have so far repeated.
Kazakhstan's President Kassym-Jomart Tokayev, who sat on the stage alongside Putin at the St Petersburg forum on Friday, said the Central Asian nation is unlikely to do so and called the self-proclaimed republics "quasi-state territories".
The fighting in Ukraine has raised fears of a global food crisis because it has interrupted food exports, particularly of grain.
Putin said Russia could "significantly increase its export of food and fertiliser" but expressed concern that Ukraine might use income from exports to pay for weapons it has received from other countries.
Meanwhile, the European Union's executive arm recommended putting Ukraine on a path to membership, a symbolic boost for a country fending off a Russian onslaught that is killing civilians, flattening cities and threatening its very survival.
The possibility of membership in the EU, created to safeguard peace on the continent and serve as a model for the rule of law and prosperity, fulfils a wish of Ukrainian President Volodymyr Zelensky and his Western-looking citizens.
The European Commission's recommendation that Ukraine become a candidate for membership will be discussed by leaders of the 27-nation bloc next week in Brussels. The war has increased pressure on EU governments to fast-track Ukraine's candidacy, but the process is expected to take years, and EU members remain divided over how quickly and fully to welcome new members.