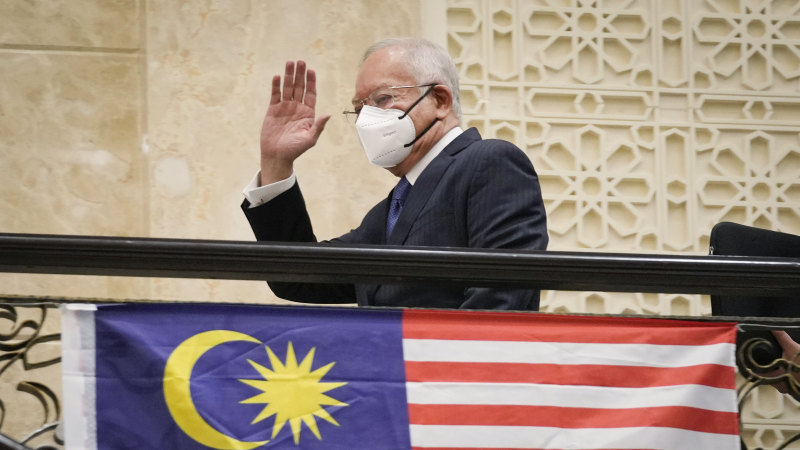 "It's the first time a former prime minister [of Malaysia] is facing jail," she said. "Many Malaysians never believed this could happen. Of course, it's not yet finalised but the prospect is there."
Welsh believes the majority of Malaysians want justice when it comes to Najib, who led the country from 2009 to 2018, and "recognise that there has been criminal activity".
But she said the country had been left polarised as he had riled up his political base, casting himself as a martyr denied a fair trial, while his opponents were bursting with glee over what appeared to be his looming demise.
Najib, who dumped his previous lawyer only three weeks ago, claims to have been left without effective representation because his new lead counsel, whose bid to withdraw has been blocked by the court, hasn't had enough time to prepare.
"For such a high-profile case, it is totally unprecedented that in a criminal case, the defence is left without any counsel," he said.
"This is a very serious matter. And I hope that the court will take into account and make remedial measures at some point of time."
Loading
But the judges gave no indication of budging and Najib was forced to sit through the allegations against him again on Friday.
Wearing a charcoal suit and red and blue striped tie, the former leader crossed his arms and stared straight ahead as the state re-stated its case.
He had already failed in December to throw out a conviction on seven charges of criminal breach of trust, money laundering and abuse of power in was only the first of his five separate trials linked to 1MDB, the sovereign wealth fund he set up in 2009 and that was looted to the tune of $US4.5 billion ($6.3 billion), according to the US Department of Justice.
With this hearing scheduled to run until next Friday – and an election tipped to be held as soon as October – timing remains everything for Najib, who is still an MP.
Loading
"He's fighting not only for his political life but his entire career," said Professor James Chin, an expert on Malaysian politics at the University of Tasmania.
"If UMNO wins the election he will try to do what he can to influence the verdict."
With the judges in Putrajaya having so resisted his bid to delay his final appeal, though, he may not get that chance.
"People are very surprised that the judiciary is not playing along with him," Chin said. "Most people before this would have said the judiciary would have played safe and granted him the extension. By not giving him the extension the judiciary are sending a message that they don't' care about the election.
"This would be a watershed moment … the first time an ex-prime minster of Malaysia would be going to jail for corruption. Before this there was unwritten tradition that once you reached the No.1 seat you can almost get away with anything."
Get a note directly from our foreign correspondents on what's making headlines around the world. Sign up for the weekly What in the World newsletter here.