"I feel sorry for them because they have to live with that mistake of just standing by," Moreno, whose great-granddaughter was among those killed in Tuesday's shooting.
Police say the gunman, 18-year-old Salvador Ramos, entered the school with an AR-15 semi-automatic rifle after earlier killing his grandmother at the house they shared.
Official accounts of how police responded to the shooting have flip-flopped wildly. The Justice Department said on Sunday it would review the law enforcement response.
Biden, a Democrat, has repeatedly called for major changes to America's gun laws, but has been powerless to stop mass shootings or convince Republicans that stricter controls could stem the carnage.
The Texas visit is his third presidential trip to a mass shooting site, including earlier this month when he visited Buffalo, New York, after a gunman killed 10 black people in a Saturday afternoon attack at a grocery store.
The Uvalde shooting has once again put gun control at the top of the nation's agenda, months ahead of the November mid-term elections, with supporters of stronger gun laws arguing that the latest bloodshed represents a tipping point.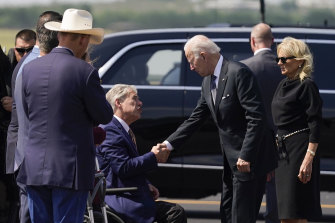 "The president has a real opportunity. The country is desperately asking for a leader to stop the slaughter from gun violence," said Igor Volsky, executive director of Guns Down America.
Leading Republicans like US Senator Ted Cruz of Texas and former president Donald Trump have rejected calls for new gun control measures and instead suggested investing in mental health care or tightening school security.
Texas Governor Greg Abbott, a Republican, met Biden at the airport on Sunday.
Abbott – a staunch pro-gun advocate – has denied that newly enacted Texas gun laws, including a controversial measure removing licensing requirements for carrying a concealed weapon, were relevant to Tuesday's bloodshed. Instead, Abbott pointed to mental illness.
Ramos, a high school dropout, had no criminal record and no history of mental illness, but did post threatening messages on social media ahead of the shooting.
Reuters, AP
Get a note directly from our foreign correspondents on what's making headlines around the world. Sign up for the weekly What in the World newsletter here.