Pressed on his latest assessment – which comes after weeks of saying he wasn't certain Putin had made a call – Biden cited "significant intelligence capability" for his shifting view, but did not elaborate further.
Australia's Prime Minister Scott Morrison said it was completely unacceptable "that a nation would threaten another's sovereignty on the pretext that it's being done in their own security interests".
Speaking in Darwin at an event to mark the 80th anniversary of the Battle of Darwin, Morrison echoed Biden saying it appeared an invasion of Ukraine by Russia was "imminent".
"We cannot have a situation where a nation such as Russia can threaten and bully those countries that border its borders. We cannot have it that they can intimidate and threaten in this way," he said. "This is not something we can allow to stand."
Asked what type of support Australia could provide in the event of an invasion, he said "Australia has not been asked and nor would we be providing support through troops or anything of that nature. We work with our allies and partners in many other ways."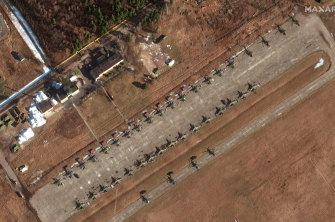 Biden's comments came after Western leaders – including Canadian Prime Minister Justin Trudeau, French President of Emmanuel Macron and British Prime Minister Boris Johnson – met over the phone on Friday (Saturday AEDT) to discuss efforts to boost the defence and security of NATO's eastern flank.
During an almost one-hour call, the leaders "expressed deep concern over Russia's continued build-up of forces, reiterated their strong support for Ukraine's sovereignty and territorial integrity, and discussed the importance of further economic assistance to Ukraine".
Of particular concern, Biden said, was the uptick in ceasefire violations – such as the shelling of a Ukrainian kindergarten – and more disinformation by Russia about Ukraine seeking to launch a major offensive.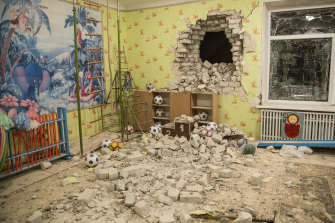 Tensions had escalated further overnight when Russia-backed separatists called for an evacuation of every woman and child in east Ukraine, claiming the Ukrainian military was about to launch a large-scale attack.
The leader of the pro-Moscow Donetsk People's Republic, Denis Pushilin, posted videos online, claiming that "Very soon, President of Ukraine Volodymyr Zelensky will order the military to go on an offensive, to implement a plan to invade the territory of Donetsk and Luhansk people's republics."
"Women, children, and the elderly will need to be evacuated first. We urge you to listen and make the right decision."
Metadata from the two videos posted by the separatists announcing the evacuation show that the files were created two days ago, The Associated Press confirmed.
On Saturday afternoon AEDT, Pushilin released a statement announcing a full troop mobilisation and urging reservists to show up at military enlistment offices.
Such moves are in line with US warnings of so-called false-flag attacks. The Ukrainian government denied allegations it was planning an offensive and said it was not targeting civilians in any way.
Biden said that "it defies basic logic to believe the Ukrainians would choose this moment, with over 150,000 troops arrayed on his border, to escalate the year-long conflict."
Despite growing concern of an imminent invasion by Russia, there are still efforts to resolve the crisis through diplomacy.
Loading
Putin has said that his country was prepared to discuss the matter further but would continue to insist on a range of demands already rejected by the West, such as pulling back NATO's forces from the region and ceasing the eastward expansion of NATO.
Biden's National Security Adviser Jake Sullivan also spent the day in Brussels as talks among NATO allies ramped up, and Vice-President Kamala Harris led the American delegation to the Munich Security Conference in Germany, along with US Secretary of State Anthony Blinken.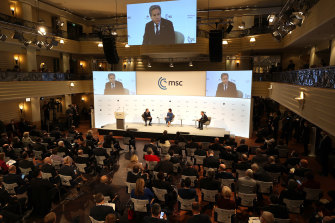 Blinken is scheduled to meet with Russian Foreign Minister Sergey Lavrov on February 24, Moscow time, in what Biden said would be a critical juncture for Putin.
"If Russia takes military action before that date, it will be clear that they have slammed the door shut on diplomacy. They will have chosen a war, and they will pay a steep price for doing so," the President said.
On Saturday before he departed for Munich, Johnson said there was still a chance to avoid unnecessary bloodshed.
"Allies need to speak with one voice to stress to President Putin the high price he will pay for any further Russian invasion of Ukraine. Diplomacy can still prevail," the British Prime Minister said.
Russia, meanwhile, has repeatedly claimed it has no plans to attack, and dismissed the US warnings about a possible invasion as "hysteria" and propaganda.
Nonetheless, earlier on Saturday, Germany announced it would put its troops in NATO's quick-reaction force on higher alert, enabling them to deploy more quickly to protect eastern European allies in case of an escalation of tensions with Russia, the Defence Ministry in Berlin said.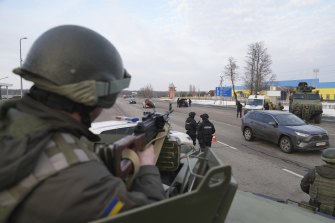 Warning sirens blared in Donetsk after it and the other self-proclaimed "People's Republic", Luhansk, announced the evacuation from the regions held by Russian-backed separatists.
Loading
Hours later, a jeep exploded outside the rebel government building in the city of Donetsk, capital of the region of the same name.
There were no reports of casualties and no independent confirmation of the circumstances of the blast. Shelling and shooting are common along the line that separates Ukrainian forces and the rebels, but targeted violence is unusual in rebel-held cities like Donetsk.
Russia had said it had started withdrawing troops from the border near Ukraine this week.
But the United States said it had instead ramped up the force menacing its neighbour to between 169,000-190,000 troops, from 100,000 at the end of January.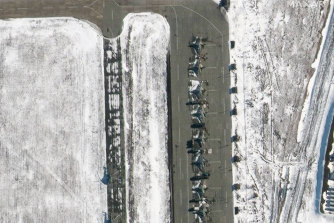 "We see additional forces going to the border including leading edge forces," Blinken told the Munich conference.
The West has threatened severe economic sanctions on Russia if it invades Ukraine.
Loading
Since toppling a pro-Russian president in 2014, Ukraine has become closer politically to the West, staged joint military exercises with NATO and taken delivery of weapons including US Javelin anti-tank missiles and Turkish drones.
Ukrainian President Volodymyr Zelensky would normally attend the Munich talks, but may not leave Kyiv amid fears of an attack.
with James Massola, and Reuters, AP