On the third year of the pandemic America is on the cusp of hitting a once unimaginable milestone: 1 million official COVID-19 deaths.
Yet about a quarter of American adults remain unvaccinated, even in the face of the new, dominant Omicron sub-variant BA2, which is said to be up to 60 per cent more transmissible than the original strain.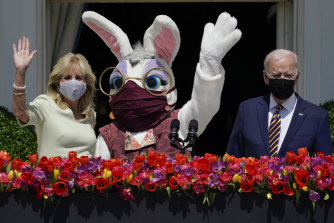 The ongoing threat has resulted in at least one major city, Philadelphia, bringing back indoor mask mandates as cases rise, while the country's federal transport mandate – which was due to expire next week – has now been extended, requiring travellers to mask up in airports, planes, buses, trains and transit hubs until at least May 3.
But back at the White House, the Biden administration's approach has been inconsistent and occasionally confusing – the very thing Democrats used to criticise Donald Trump for when he was in power.
Last week, for instance, the vice president was deemed a COVID "close contact" after her communications director, Jamal Simmons, tested positive. Under official guidelines, Harris was meant to wear a mask for 10 days after exposure.
Yet, Harris appeared maskless on the Senate floor during Ketanji Brown Jackson's Supreme Court confirmation vote and also at the outdoor ceremony celebrating Jackson's appointment a day later, where she shared a hug with the new justice.
Earlier, Biden hosted a packed and maskless event in the East Room of the White House with Barack Obama to celebrate the Affordable Care Act, where he was seen close to Pelosi. The speaker returned to the White House the next day for a bill-signing ceremony where she hovered over Biden. Within 24 hours she announced she had tested positive for COVID.
It's little wonder Republicans are calling out Democrats for hypocrisy.
"The issue is that if they thought their policies really were necessary, that these mitigations really were effective, they would be abiding by it," said Republican Ron DeSantis, the "freedom-loving" Florida governor whose state famously shunned masks, mandates and other official guidelines.
"They are not abiding by it because they know it's all about politics and control."
Loading
Biden wants to convey a sense of normalcy to fatigued Americans who are well and truly sick of the pandemic. With his approval ratings in free-fall and the midterm elections approaching, he's also trying to reset his agenda by travelling more frequently to key battleground states. This in turn increases the risk of infection – a reality that the White House now appears to accept.
"Like anyone else, the president may at some point test positive for COVID," Psaki said.
"What is important for the American people to know is that he has taken a range of precautions, as we all have, and his doctors are comfortable that he can continue to carry out his duties."
There's never a good time for the leader of the free world to risk falling ill, least of all while he's confronting a war in Europe and a multitude of domestic challenges.
Loading
If Biden gets COVID, the immediate concern would obviously be his health given his age, but there could also be potential political implications. After all, this is a president who came to office not only promising to "defeat" the virus, but also vowing to adhere to the Centres for Disease Control guidelines often ignored by his predecessor.