Many other Trump advisers, including former attorney-general Bill Barr, had revealed earlier in the week how they repeatedly tried to debunk Trump's claims of a stolen election.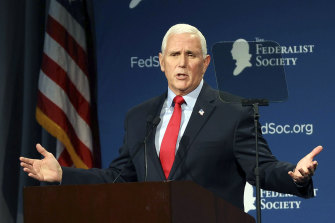 But in a grievance-fuelled address lasting almost 90 minutes, Trump said he simply wanted Pence to send the votes back to state legislatures because of the electoral "fraud" he claims took place.
"He had a chance to be, frankly, historic," Trump said of Pence. "But just like Bill Barr and the rest of these weak people … he did not have the courage to act."
The former president also took aim at the committee itself, accusing the group of editing video depositions and taking witness statements out of context in order to create a "fake and phony narrative and a chilling attempt to weaponise the justice system against their political opponents".
"What happened on January 6 was a simple protest that got out of hand," he said. "And they never show the size of the crowd. I believe it was the largest number of people I've ever spoken to. I'm not talking about the very small percentage of people who went down to the Capitol, many of whom did nothing wrong … I'm talking about the crowd I spoke to before [at the rally that preceded the attack]."
Loading
Trump's speech was the seventh time he appeared at the Faith and Freedom conference, an annual conservative gathering that bills itself as America's "premiere pro-faith, pro-family event" and is designed to "empower conservative activists to fight for their values at the polls".
The former president has repeatedly said he would wait until after the midterms – when the Republicans are expected to regain control of Congress – to announce if he would run for president again.
The findings of the committee's probe could end up having an impact on such an announcement, particularly if it leads to a criminal investigation into Trump by the Department of Justice.
Others in Trump's orbit have already found themselves in legal turmoil as a result of the committee's work, such as former White House trade adviser Peter Navarro, who pleaded not guilty to contempt of Congress charges on Friday after not co-operating with the January 6 investigation.
The committee's fourth hearing will take place on Tuesday and is likely to feature testimony from Georgia Secretary of State Brad Raffensperger and his top deputy Gabriel Sterling.
Raffensperger is the electoral official who famously rebuffed Trump's pressure to simply "find" enough votes to help reverse his defeat in Georgia – the once Republican state that ultimately handed Biden control of the White House after it flipped to the Democrats in 2020. Sterling, meanwhile, was an outspoken critic of Trump's claims of fraud.
Get a note directly from our foreign correspondents on what's making headlines around the world. Sign up for the weekly What in the World newsletter here.