The intrigue began almost three years ago when Rooney became suspicious about stories appearing in the Sun tabloid involving information she had put on her personal Instagram account. She turned detective to try to find out who the culprit was.
She said she blocked everyone from viewing her account except one person and then posted a series of false stories to see whether they leaked out, which she said they had.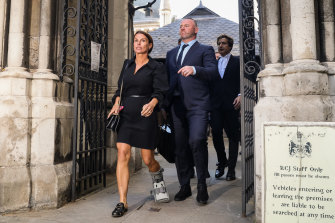 She wrote on her social media accounts that only one person had viewed the false stories, concluding with the dramatic revelation: "It's … Rebekah Vardy's account."
"I didn't leak anything," Vardy told the High Court in London during hearings in May.
Vardy, who says the result of Rooney's public outing was that she and her family had received abuse and threats, has accepted that Watt might be responsible for the leaks, but denies instructing her to leak the information.
Loading
The court was shown message exchanges she had with Watt, which included some derogatory remarks about Rooney, while Rooney's lawyer says Vardy had deleted other media files and WhatsApp messages.
Meanwhile, Watt's phone ended up at the bottom of the North Sea after she accidentally dropped it over the side of a boat.
"Like any good detective story, you never find the person responsible standing over the body with the smoking gun in her hand," David Sherborne, Rooney's lawyer, told the court.