The Coalition appears to be splitting on climate change, with Nationals Senator Matt Canavan describing 2050 net-zero targets as "all sort of dead" just hours after Prime Minister Scott Morrison was forced to defend his government's "absolute" commitment to it.
Labor seized on the former minister and outspoken fossil fuel champion's comments on Tuesday as a "huge development", coming the day after Queensland Nationals candidate Colin Boyce described the target as a "flexible plan" that "leaves us wiggle room".
Both Mr Boyce and Senator Canavan pointed to the world's reaction to Russia's invasion of Ukraine, and particularly the dramatic impacts on oil and gas supply to Europe, as evidence of a lack of commitment to the target.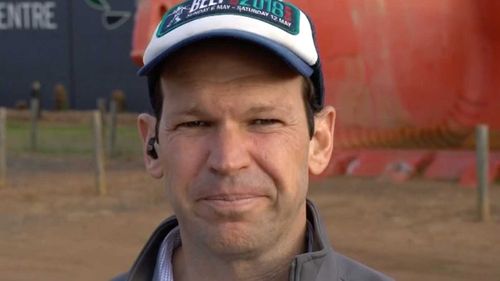 "The net zero thing is all sort of dead anyway," he told the ABC's Afternoon Briefing on Tuesday.
"I mean, (United Kingdom Prime Minister) Boris Johnson's said he's pausing the net-zero commitment, Germany's building coal and gas infrastructure, Italy's reopening coal-fired power plants, it's all over. 
"I mean, it's all over bar the shouting here."
The Queensland Senator's comments, including that he "didn't believe" the net-zero commitments by his own government or any others around the world, ran directly counter to Mr Morrison's assurances earlier in the day. 
The Prime Minister insisted Mr Boyce, the Nationals candidate for Flynn, which is in and around regional Queensland city of Gladstone, was talking about "how we get there".
"He wasn't talking about the commitment himself and he's clarified that today," Mr Morrison said on Tuesday.
"Our commitment to net zero by 2050 is a commitment of the Australian government that I made in Glasgow. 
"It is the government's absolute policy."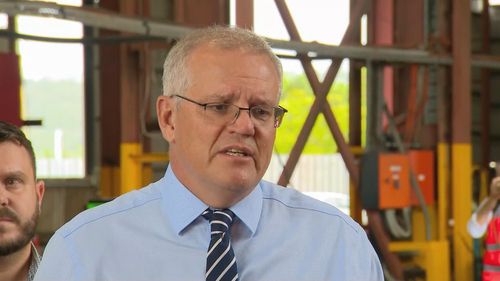 He said Labor's plans to get the country to net zero by 2050 would affect a range of key industries such as oil, gas, cement and rail freight "penalised and taxed".
"Our approach is to incentivise the change," he said.
"Our approach (is) with the hydrogen hubs carbon capture, use and storage, $22 billion of investment under the plan that Angus Taylor has put together to get us to net zero by 2050, through technology, not burdensome taxes on the Australian people."
The agreement followed years of ugly political fights over climate action that played a key role in bringing down several prime ministers and party leaders.
But the Nationals leader was less definitive than his Coalition partner when asked about Mr Boyce's comments on Tuesday, backing in his candidate.
"We've said we've set a target, we're going to try and meet … but I think where Colin's coming from, it's completely understandable," Mr Joyce told AAP.
"Coal remains one of our nation's strongest exports.
"If you start getting rid of one of our major exports, then our key economic strength is affected."
Labor Senator Murray Watt said the Morrison government's net-zero policy was a "farce" and questioned what the latest developments would mean for Liberals under pressure from climate-motivated independents in inner-city seats.
"Over the last 24 hours, we've seen the split between the Liberal and the National Party on this issue widen in the middle of an election campaign, with Nationals saying that this policy is not binding and any number of Liberals saying that it is binding," he told the ABC. 
"But now we've got a member of the National Party and the government saying that the policy is entirely dead. 
"That is a huge development and Scott Morrison has got to actually say to people whether this policy is real or not."
Germany's government says it is still committed to ending coal-fired power "ideally" by 2030 but is delaying the closure of some plants and building some liquefied natural gas terminals to replace reliance on the massive Nordstream pipeline from Russia. 
Italy's Prime Minister Mario Draghi in February said it might be necessary to reopen coal plants. 
Mr Johnson has been criticised for seeking to replace Russian fossil fuel energy with oil from the Middle East but has defended his government's commitment to net zero and called for the country to "double down" on renewable energy.