In his first direct mention of Australia during his 10-day, eight-country tour, Wang told Samoan Prime Minister Fiame Naomi Mataafa that China was not seeking "exclusive rights" to help develop the area.
"China is willing to enhance communication with all countries that care about Pacific Island Countries, especially Australia and New Zealand, and give full play to respective strengths to carry out more trilateral co-operation on the basis of respecting Pacific Island Countries' wishes," he said.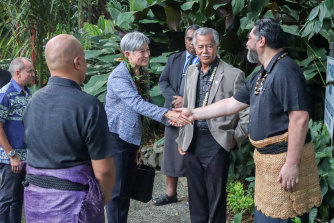 Wang's comments followed a diplomatic blitz by Foreign Minister Penny Wong last week. Wong said it was up to individual nations to make sovereign decisions about their future but warned them that a region-wide deal with Beijing could sacrifice their independence, lead to unsustainable debt levels and endanger the Pacific's security. The countries visited by Wang sit on a key strategic route between the United States, Australia and Asia and less than 2000 kilometres off the coast of Queensland that could block supply lines in the event of a conflict.
Wang failed to get consensus on the Pacific-mega deal but halfway through his 10-day tour has signed dozens of bilateral agreements including police training in Samoa, COVID-19 economic recovery plans with Fiji, radio and television co-operation with Niue and climate change and marine protection programs with Kiribati.
Loading
Beijing's top diplomat has positioned China in meetings with his Pacific counterparts as the leader of a growing group of developing countries that feel left out of the US-led international order that he argues is fuelled by Western geopolitical aims.
"Developing countries need to strengthen solidarity," Wang said on Sunday.
"As the largest developing country, we have always stood by developing countries and stood firm for fairness and justice for small and medium-sized countries."
Prime Minister Anthony Albanese has yet to publicly respond to a message from Chinese Premier Li Keqiang congratulating him on his election. Beijing's tone since the Labor victory on May 20 has been trending softer but $20 billion in trade sanctions on Australian exports remain in place and Albanese has maintained that Australia would not begin negotiations until trade restrictions were lifted.