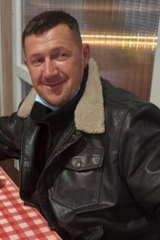 An Australian man who died this week amid fighting in Ukraine has been remembered as "a larrikin [and] always a battler".
Father-of-three Michael Charles O'Neill, 47, who lived in Hobart, was killed on Wednesday while providing humanitarian aid in Ukraine following the Russian invasion.
"Always looking for a cause he headed to Ukraine to drive trucks helping citizens flee the country," his sister said online.
"He then assisted driving the wounded and injured from the front line. Unfortunately meeting a sad end."
She said O'Neill drove trucks for the mining industry before going to Ukraine.
O'Neill's mother said he was killed when the Ukrainian army came under heavy fire in a war zone.
"Our family is grieving, and he has left a huge hole in our lives," she said online.
"He left two daughters and a son so part of him is still with us. During his time [in Ukraine] he was awarded a commendation for bravery from the Commander of the Ukraine Army so he obviously made his presence felt … Always loved and missed."
In a death notice in the Hobart Mercury on Saturday, the family wrote: "We are all so proud of you, you did it your way."